June 21, 2021
Rhubarb Mascarpone Galette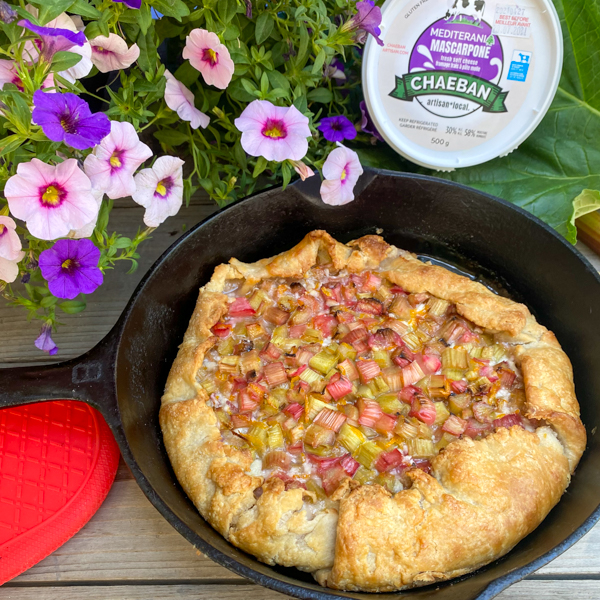 This rhubarb mascarpone galette is the perfect way to celebrate spring. The creamy, slightly
sweet mascarpone filling goes perfectly with the tart rhubarb and the flaky pastry crust holds it
together beautifully without any fuss. But don't just enjoy this easier than pie dessert in spring –
try it with strawberries, blueberries and peaches!
Don't want to make pie pastry, no problem – store bought pie shells work great too.
Pastry Crust
1 1/2 cups all purpose flour
1/4 tsp salt
1/2 Tbsp granulated sugar
1/4 cup cold butter, cut in pieces
1/4 cup cold shortening, cut in pieces
1/2 Tbsp vinegar
5-7 Tbsp ice cold water
Rhubarb Filling
1/3 cup sugar
1 Tbsp cornstarch
1 Tbsp orange zest
1/2 tsp cinnamon (optional)
3 cups chopped fresh rhubarb (5-8 stalks)
Mascarpone Filling
1/2 cup mascarpone
1/4 cup sugar
1 Tbsp orange zest
Finishing Touch
1 Tbsp milk or cream
1/2 Tbsp granulated sugar
1 Tbsp icing sugar (optional)
INSTRUCTIONS
Pastry
In large bowl, mix flour salt and sugar.
Cut in butter and shortening to form pea sized crumbles.
Mix vinegar and ice water. Add 5 Tbsp of vinegar water to flour. Using a fork mix in until
ingredients come together.
Turn out onto lightly floured surface. Gently knead and squish loose bits of dough together.
If needed, add one tablespoon of water at a time. Shape dough into a flat, round disc. Wrap
in plastic wrap and refrigerate for one hour.
Rhubarb Filling
In large bowl, mix cornstarch and sugar. Add orange zest and cinnamon if using.
Add rhubarb pieces and toss well to evenly coat pieces with cornstarch and sugar. Set
aside.

Mascarpone Filling
In small bowl, mix mascarpone, sugar and orange zest. Set aside.
Assembly & Baking
Preheat oven to 375°F (190°C).
Roll pastry out on floured surface to form a 12″ circle about 1/4″ thick. As long as the
thickness is relatively even, don't worry too much about a perfect circle with perfect edges –
we're going for a rustic look!
Transfer pastry onto a large, rimmed baking sheet (the rim will contain any potential leaks).
OR place pastry in a 10 inch cast iron skillet to help keep a round shape.
Spread mascarpone filling on pastry leaving a 2 inch border.
Top mascarpone with all of the rhubarb and most of the juices (if there's too much juice,
leave some behind).
Fold dough over the rhubarb all the way around. You'll have to fold the dough on top of itself
about 8-10 times as you work around the circle. Pinch together to hold in place.
To get a nice golden crust, brush pastry with milk or cream and sprinkle with sugar. (I used
1% milk, you'll get a glossier finish with higher fat content).
Bake for 40 to 50 minutes until crust is golden and filling is visibly bubbling.
Remove from oven and let cool on wire rack for 15 minutes. Remove galette from baking
sheet and continue to cool on wire rack. By letting it cool completely, the filling will set and
won't run all over.
Store any leftovers in the fridge.
**This is a recipe developed by Professional Home Economist Getty Stewart.