January 25, 2022
Roasted Rainbow Carrots with Feta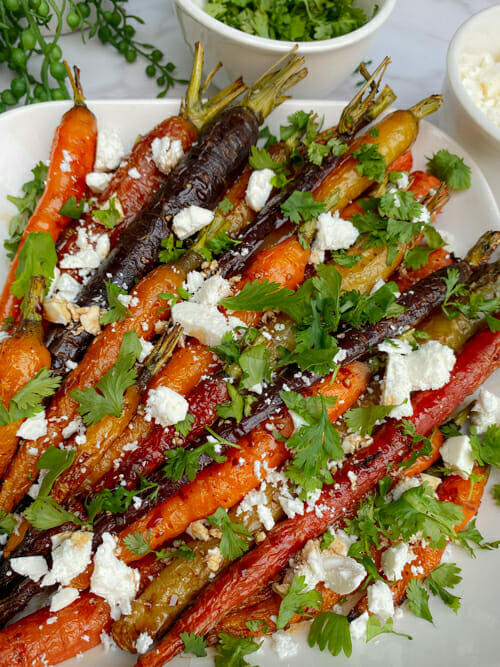 These roasted rainbow carrots are as delicious as they look! The perfect recipe when beautiful bunches of fresh carrots are available from the garden or farmers' markets. Of course, you can also make them with any orange carrots or even peeled little carrots without tops. Let the feta and greens make them divine.
Ingredients
2 bunches rainbow carrots (total of 10-12 carrots(2lb))*
1-2 Tbsp canola oil
1-2 Tbsp good quality balsamic vinegar (thick, sweet, tangy)
1/2 tsp chili lime finishing salt
1/3 cup crumbled firm feta
1 Tbsp chopped cilantro or parsley
Instructions
Preheat oven to 400°F/204°C.
Wash and scrub carrots. If using carrots with greens, leave about 1/2 inch of greens on carrots. Trim off skinny root end. Cut any thick carrots in half lengthwise to make all carrots roughly even in thickness.
Coat carrots with 1-2 Tbsp of canola oil all over and arrange in single layer in large baking dish or on a sheet pan.
Drizzle with good quality balsamic vinegar and sprinkle with chili lime finishing salt or salt and hot pepper flakes.
Bake for 15-20 minutes depending on how thick your carrots are.
Remove from oven. If there's any vinegar left on the pan, roll the carrots in it to soak it all up before transferring to serving dish.
Arrange nicely on serving dish or platter and add feta and cilantro or parsley.
If desired drizzle with a little more balsamic vinegar.
Notes
Bunches of fresh carrots with the tops are usually sold in 1lb bundles, about 5-6 carrots. Bagged carrots without the tops are usually sold in 2lb bundles, about 10-12 carrots.
**This is a recipe developed by Professional Home Economist Getty Stewart.